If you're in need of roof repair in Dallas or Carrollton, SEI Roofing is here to help. We offer a variety of roofing services, including repairs for all types of roofs. No job is too big or too small for us!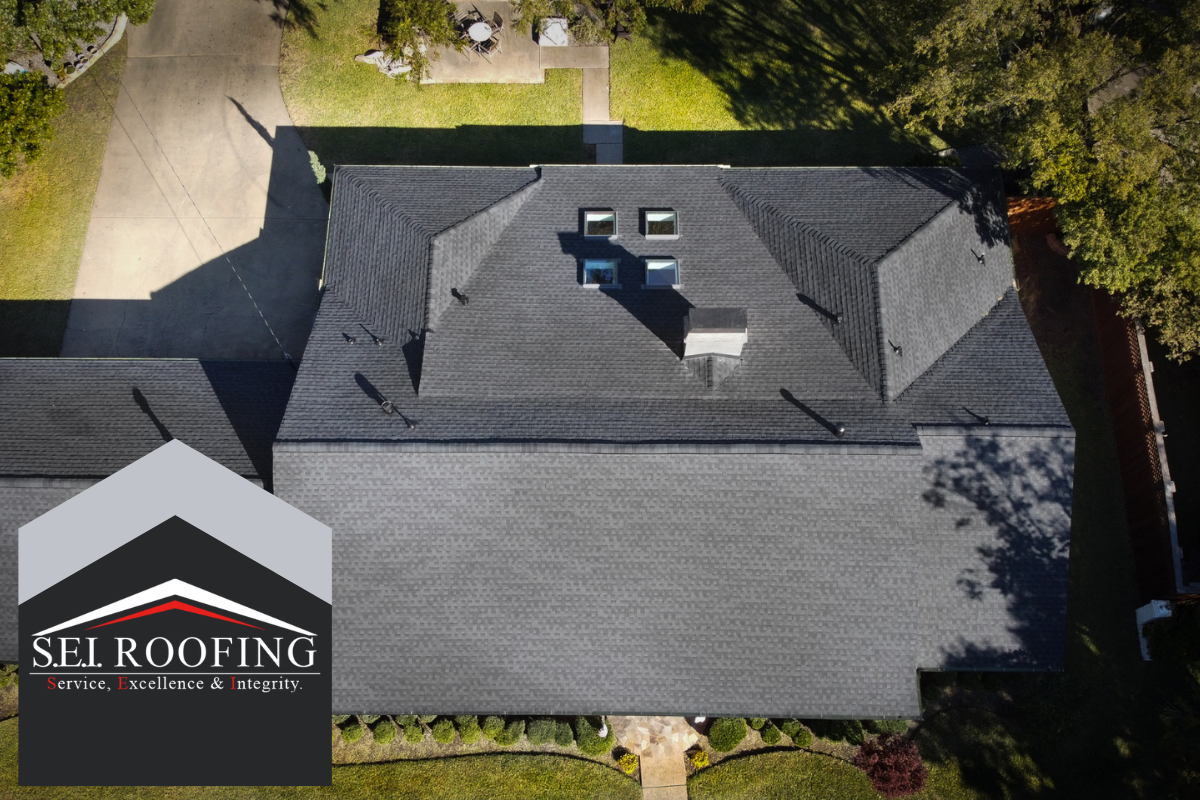 A solid, protective roof provides shelter from the storm and keeps the elements out of your home. Over the years, your roof is constantly exposed to sunlight and the elements, which causes strain and wears down your roofing materials.
Promptly dealing with minor issues helps to extend the life of your roof and prevent serious roof damage. SEI Roofing provides roof repair in Dallas and Carrollton to ensure that your home is protected.
How Do You Know Your Roof Needs to Be Repaired?
There are several signs you can look for that indicate it's time for roof repair:
Your energy bills have increased significantly
Shingles or tiles are missing, cracked, or otherwise damaged
You find shingle granules in your gutters or near your downspouts
There is water damage on your ceilings or walls
You see an active leak
Here's a closer look at each of them.
Sign #1 That You Need Roof Repair: Your Energy Bills Have Increased Significantly
If you suddenly start paying a lot more for heat or air conditioning, it could be because your roof is no longer doing its job of protecting your home from the elements. When your roof isn't in peak shape, it can't help you regulate temperatures in your home.
Sign #2 That You Need Roof Repair: Shingles or Tiles Are Missing, Cracked, or Otherwise Damaged
Shingles and tiles can become damaged for a variety of reasons. They might be old and deteriorating, or they could have been damaged by severe weather conditions like hail or high winds. If you see any damage to your shingles or tiles, it's important to get roof repair as soon as possible.
Sign #3 That You Need Roof Repair: You Find Shingle Granules in Your Gutters or Near Your Downspouts
If you start to see black granules in your gutters or on the ground near your downspouts, it's a sign that your shingles are deteriorating. As shingles break down, they lose their protective granules. This leaves your roof more susceptible to damage from the elements.
Sign #4 That You Need Roof Repair: There Is Water Damage on Your Ceilings or Walls
If you notice water stains on your ceilings or walls, it may indicate that you have a roof leak. It's important to get roof repair as soon as possible to prevent further damage to your home.
It can be tough to tell whether you're looking at water damage, though, so here's what it looks like:
Brownish rings or circles
Peeling paint
Staining
Bubbling paint
Sign #5 That You Need Roof Repair: You See an Active Leak
If you see water dripping from your ceiling or walls, it's an indication that you have an active roof leak. This is a serious problem that needs to be addressed immediately. An active roof leak can lead to further damage to your home, so it's important to get roof repair as soon as possible.
If you see any of these signs, it's time to call SEI Roofing for roof repair in Dallas or Carrollton. We're experts at repairing all types of roofs, and we'll work quickly to get your roof back in shape.
Request a free, no obligation roof inspection
Emergency Roof Repair in Dallas
Did your roof spring a leak in the middle of the night? At SEI Roofing, we understand that not all roof problems occur during normal business hours, which is why we are happy to be available after-hours for our customers in Dallas for roofing emergencies!
What counts as a roofing emergency?
There has been some sort of impact on your roof, such as a tree branch falling on your roof
Significant leak that is causing water to puddle on your floor
Maximize the Life of Your Roof
Roof problems often start out minor, and you may not even notice there is a problem. Some homeowners choose to avoid the problem, thinking that waiting on scheduling a roofing service will save money. However, inaction only allows issues to build up over time until they cause serious damage to your home. This can also decrease the lifespan of your roof, which means it will need to be replaced years earlier than a properly maintained roof. We offer roof repairs for issues of all kinds to help you maximize the useful life of your roof.
With more than two decades of experience and our dedication to excellent service, you can rely on SEI Roofing to provide you with only the best roofing work around!
Request A Free Roof Inspection today!
Call today or contact us online to schedule a roofing service in Dallas or the surrounding areas!