PVC Roofing for Your Industrial Building
Explore whether PVC roofing is the right choice for your industrial or commercial building and learn about its pros and cons with this guide.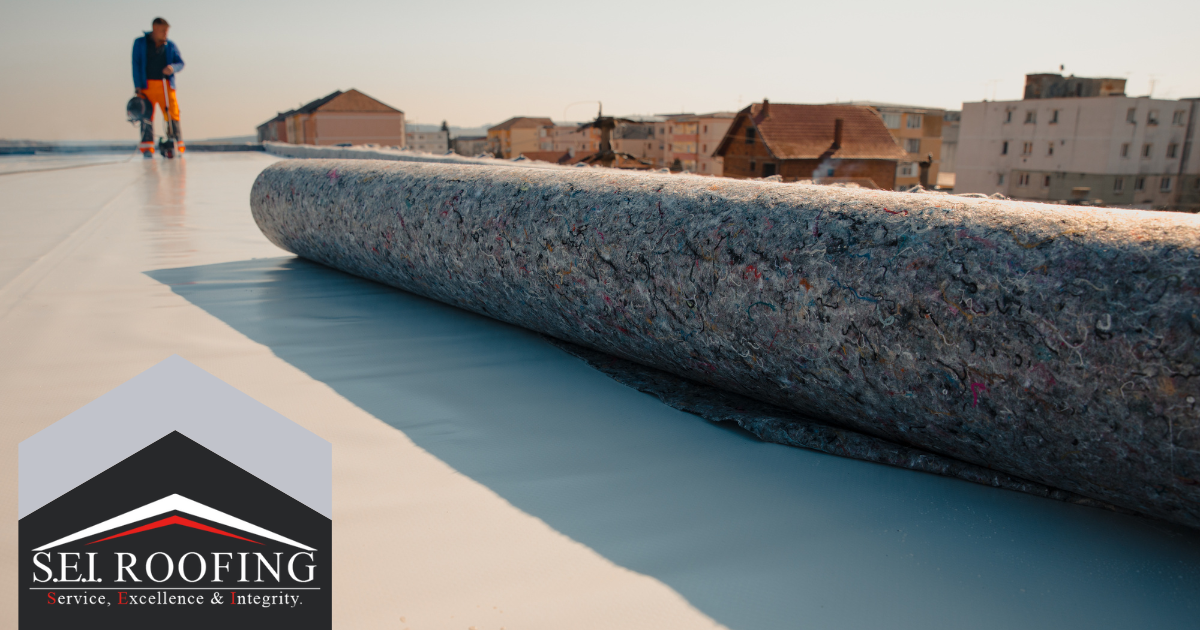 If you own an industrial or commercial building, PVC roofing may be the right choice for you — and SEI Roofing can install it quickly, efficiently and at a price you can afford. But what is PVC roofing, how does it work, and what types of buildings is it best suited for?
PVC roofing, also known as polyvinyl chloride roofing, is a single-ply roofing membrane made from durable synthetic materials. It's grown in popularity over the past several years because it's durable, energy-efficient and low maintenance.
PVC Roofing on Industrial and Commercial Buildings
PVC roofing is an excellent choice for commercial roofing and industrial building roofs that have flat or low slope roofs, such as retail stores, office buildings and shopping centers. PVC roofing is also great for industrial buildings like factories and warehouses that need roofs to withstand harsh weather conditions and exposure to chemicals and pollutants.
Benefits of PVC Roofing
PVC roofing has several benefits, but among the biggest are:
Durability
Energy efficiency
Low maintenance
Long lifespan
Environmental friendliness
Here's a closer look at each below.
Request a free, no obligation roof inspection
Durability in PVC Roofing
PVC roofing is made of tough synthetic materials that can stand up to weather events, fire, chemicals and UV rays. That's why it's an excellent choice for buildings in Texas, where severe weather conditions occur fairly frequently. PVC roofing is also rugged and durable enough to hold its own against chemicals and fire hazards. Finally, it's highly resistant to punctures, tears and abrasions, which means it'll last.
PVC Roofing's Energy Efficiency
PVC roofing reflects the sun's rays rather than absorbing them. That helps keep your building cool in the summer and reduces your need to crank the air conditioning up. That can result in even more energy cost savings and a smaller carbon footprint.
Low Maintenance PVC Roofing
PVC roofing is resistant to mold, mildew and algae. That means it requires very little maintenance beyond debris removal. Because it's so strong, it doesn't require frequent repairs or replacement, either, which can help you save money and time over the roof's lifespan.
Long Lifespan for PVC Roofing
PVC roofing can last for about 30 years with proper installation and maintenance. Because it lasts so long, it's a very popular choice among business owners. As long as you take care of it, you can expect it to last as long as the manufacturer says it will.
PVC Roofing's Environmental Friendliness
Unlike many other roofing materials, PVC roofing is recyclable. On top of that, it's highly reflective and can help reduce the urban heat island effect and lower carbon emissions. Because of the way it works, it can keep your energy costs low, as well.
With more than two decades of experience and our dedication to excellent service, you can rely on SEI Roofing to provide you with only the best roofing work around!
FAQ on PVC Roofing
Check out the following questions we often get about PVC roofing. If you don't see the answer you're looking for here, please call our office and we'll be happy to tell you what you need to know.
How Long Does PVC Roofing Last?
PVC roofing can last for up to 30 years if you maintain it properly.
How is PVC Roofing Installed?
Normally, we install PVC roofing in large, single ply sheets. We bond them to the roof using a combination of adhesives and heat welding. The installation process requires us to use specialized equipment.
Do You Need to Talk to the PVC Roofing Experts?
Call SEI Roofing today if you're interested in PVC for your industrial or commercial building. We'll be happy to discuss your options with you. If it's easier, you can also schedule a PVC roofing consultation online.